Continuing my gratitude list…
151. Encouraging words when the winter blues made an appearance.
152. Getting honest with God and myself about the secret places in my heart that are no secret to Him.
153. Moving past the word "Paul" in my goal to memorize the book of Ephesians.
154. Encouragement from a friend as she joins me in memorization!!!
155. God writing His Word on my heart verse by verse.
156. Snow…snow…and more snow.
157. Sunshine on the snow after the clouds clear.
158. Meeting a neighbor for the first time when I offered to help her shovel her driveway.
159. Thanks from my husband when he arrived home to a shoveled drive.
161. The words "I've been praying for you this week".
162. Surprise left by a new Secret Sister.
163. The members of our church who clear the parking lot, shovel the sidewalk, and assist the elderly.
164. Safe travels on snow covered roads to and from church.
165. A text from my husband to let me know he arrived safely to work.
166. Schwan's ice cream miniatures.
167. Wool socks…thick and warm.
168. Our treadmill…I don't have to walk in the frigid cold through the snow and ice...after eating Schwan's ice cream mini's.
169. K-LOVE playing over the internet.
What are you thankful for today? Join us at A Holy Experience and do share
!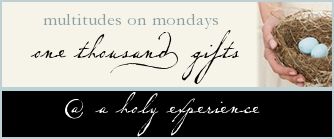 Thanks for stopping by,